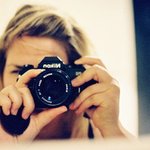 Harriet Green
I'm Harriet, I'm from London and I take photos on film.
I use both analogue SLR's and toy cameras, often cross-processing to make colours pop. Here are some of my favourites - I hope you like them too :)
More of my work @ flickr.com/harrietgreen
Read more
Harriet Green's Store
Filter
3d60566c-ae13-4922-bfd6-968fd4fdf8f7

Popular

722dd07a-bd98-4c6d-bed8-c1d04dc8f910

All
You are currently on society6.com.