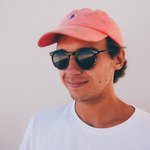 Harry Cartwright
Harry Cartwright is a 24 year-old, British artist living and working in East London. Adorned with a capricious quality, Harry Cartwright's paintings are steeped in an old-school atmosphere that blends many different styles, all with varied forms of inspiration. For the viewer, such confident mark-making and material combinations mean Cartwright's bold and ever growing body of work is both visually and mentally very exciting. You could mistake him for being a California boy given the feel that his art brings across, yet Cartwright hails from Berkshire, UK. Although the 23-year-old mainly focuses on painting, he has experimented with a wide variety of other forms too, namely photography and video work, inspired by his peers at art school where he studied Advertising. Paired with his unparalleled passion for creating and experimenting suggests an artist at the beginning of a strong career. Harry Cartwright joined Society6 on October 13, 2016
More
Harry Cartwright is a 24 year-old, British artist living and working in East London.
Adorned with a capricious quality, Harry Cartwright's paintings are steeped in an old-school atmosphere that blends many different styles, all with varied forms of inspiration. For the viewer, such confident mark-making and material combinations mean Cartwright's bold and ever growing body of work is both visually and mentally very exciting.
You could mistake him for being a California boy given the feel that his art brings across, yet Cartwright hails from Berkshire, UK. Although the 23-year-old mainly focuses on painting, he has experimented with a wide variety of other forms too, namely photography and video work, inspired by his peers at art school where he studied Advertising. Paired with his unparalleled passion for creating and experimenting suggests an artist at the beginning of a strong career.
Harry Cartwright joined Society6 on October 13, 2016.
Harry Cartwright's Store
120 results
Filter