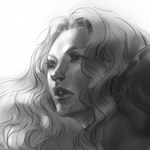 hart-coco
Born in Spain in 1989, I grew up with some drawing tool always in my hand. Even though I said I would be a vet, a teacher or even an astronomer when I grew up, art has always been my faithful companion and my passion. My influences are japanese manga, fantasy, art nouveau, Blizzard, Alphonse Mucha, more fantasy, and anything that gets my inspiration going. http://hart-coco.deviantart.com/ https://twitter.com/HarTCoco http://hart-coco.tumblr.com/ hart-coco joined Society6 on January 19, 2014
More
Born in Spain in 1989, I grew up with some drawing tool always in my hand. Even though I said I would be a vet, a teacher or even an astronomer when I grew up, art has always been my faithful companion and my passion.
My influences are japanese manga, fantasy, art nouveau, Blizzard, Alphonse Mucha, more fantasy, and anything that gets my inspiration going.
http://hart-coco.deviantart.com/
https://twitter.com/HarTCoco
http://hart-coco.tumblr.com/
hart-coco joined Society6 on January 19, 2014.