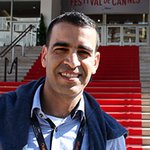 HassanHamdi
My name is Hassan Hamdi and I am an Artist painter and Graphic Designer, I was born in 1973 in Tinejdad Morocco. I studied in the fine arts school "Ecole des Beaux Arts de Casablanca", and Film Directing in "Lights Film School", NY. Has lived and worked in the Netherlands since 2000. I created HamdiArt.com because I want to bring my art more closer to the public, to your home and to your office. HamdiArt.com is another way to sell high resolution JPEG art online. JPEG artwork gives you the freedom to select the print and the size you want (A4, A3, A2,...) as well as to choose the type of material (paper or canvas). The original paintings are also available for purchase and on demand. I do update the site pretty frequently so be sure to come back again. Any comments you might like to make are welcome! Thank you Hassan Hamdi HassanHamdi joined Society6 on January 14, 2014
More
My name is Hassan Hamdi and I am an Artist painter and Graphic Designer, I was born in 1973 in Tinejdad Morocco.
I studied in the fine arts school "Ecole des Beaux Arts de Casablanca", and Film Directing in "Lights Film School", NY. Has lived and worked in the Netherlands since 2000.
I created HamdiArt.com because I want to bring my art more closer to the public, to your home and to your office. HamdiArt.com is another way to sell high resolution JPEG art online. JPEG artwork gives you the freedom to select the print and the size you want (A4, A3, A2,...) as well as to choose the type of material (paper or canvas). The original paintings are also available for purchase and on demand.
I do update the site pretty frequently so be sure to come back again. Any comments you might like to make are welcome!
Thank you Hassan Hamdi
HassanHamdi joined Society6 on January 14, 2014.