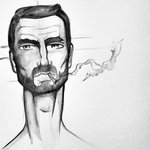 Hassan Hassan
My work is influenced by fashion, pop music and the art of the great pop artists like Lichtenstien and Warhol. Having developed this style literally out of the notebooks used for my full time job as a journalist, my doodles seemed to take on a life of their own. Personally the work is a simple representation of everything going on in my head, whether that comes from flipping through Vogue or clicking through YouTube. As an Egyptian, there have obviously been inspirations picked up from living in Cairo for the past decade. Living in Cairo, after growing up in the sheltered suburbs of the Gulf, has certainly influenced my work, but not always in obvious ways. Sufi dancers and the belly dancers might make the occasional appearance, but Id much rather be inspired by the weather and the dusty crevices of kiosks on the street; the bright wrappers of Egyptian candy bars or the lingerie shops jostling for street space with those selling veils. Nothing is as inspirational as a whole country wanting ladies in the streets and freaks in the bed, and a country that has little qualms announcing those paradoxical desires and doing so without irony. I guess my work is a representation of that duality. That idea that everything is also its very opposite. Happy and sad. Fat but thin. Beautiful but ugly. A constant contradiction. Hassan Hassan joined Society6 on August 28, 2013
More
My work is influenced by fashion, pop music and the art of the great pop artists like Lichtenstien and Warhol. Having developed this style literally out of the notebooks used for my full time job as a journalist, my doodles seemed to take on a life of their own. Personally the work is a simple representation of everything going on in my head, whether that comes from flipping through Vogue or clicking through YouTube.
As an Egyptian, there have obviously been inspirations picked up from living in Cairo for the past decade. Living in Cairo, after growing up in the sheltered suburbs of the Gulf, has certainly influenced my work, but not always in obvious ways. Sufi dancers and the belly dancers might make the occasional appearance, but Id much rather be inspired by the weather and the dusty crevices of kiosks on the street; the bright wrappers of Egyptian candy bars or the lingerie shops jostling for street space with those selling veils. Nothing is as inspirational as a whole country wanting ladies in the streets and freaks in the bed, and a country that has little qualms announcing those paradoxical desires and doing so without irony.
I guess my work is a representation of that duality. That idea that everything is also its very opposite. Happy and sad. Fat but thin. Beautiful but ugly. A constant contradiction.
Hassan Hassan joined Society6 on August 28, 2013.
Hassan Hassan's Store
48 results
Filter