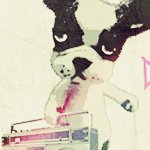 Haus Of Lelu
Haus Of Lelu.... what could this be???? Well, It is no accident you are reading this. Haus Of Lelu is the name given to the printing and design section of Lelu's Workshop... Lelu's Workshop? Haus Of Lelu?? It gets more confusing.. Haus Of Lelu is in the south-west of EasterBunny-Island. (That is more south than the Blue Ramen Lake and twice as west as The Pudding Bowl Downs) Of course you may already know that EasterBunny-Island is one of only a few points in this old Universe where the fuzziest-est of needle-felted friends may be brought into existence... Each carrying within a brilliant fuzzy soul to at last call its own. If you like the vibe, would like to learn more and if you have the time. Why not book your ticket today....? Even though it is so much easier to visit.... www.leluandfriends.com At this site there is also a Blog. It is young and without many visitors. I hope to see you there some day.... Lelu.... (And Friends) PS Beware of Pixies, They enjoy getting jacked up on "Moxie™" http://leluandfriends.com https://www.facebook.com/lelunadfriends twitter @leluandfriends Haus Of Lelu joined Society6 on October 20, 2013
More
Haus Of Lelu.... what could this be????
Well, It is no accident you are reading this. Haus Of Lelu is the name given to the printing and design section of Lelu's Workshop...
Lelu's Workshop? Haus Of Lelu?? It gets more confusing.. Haus Of Lelu is in the south-west of EasterBunny-Island. (That is more south than the Blue Ramen Lake and twice as west as The Pudding Bowl Downs) Of course you may already know that EasterBunny-Island is one of only a few points in this old Universe where the fuzziest-est of needle-felted friends may be brought into existence...
Each carrying within a brilliant fuzzy soul to at last call its own.
If you like the vibe, would like to learn more and if you have the time. Why not book your ticket today....? Even though it is so much easier to visit.... www.leluandfriends.com
At this site there is also a Blog. It is young and without many visitors.
I hope to see you there some day....
Lelu.... (And Friends)
PS Beware of Pixies, They enjoy getting jacked up on "Moxie™"
http://leluandfriends.com https://www.facebook.com/lelunadfriends twitter @leluandfriends
Haus Of Lelu joined Society6 on October 20, 2013.