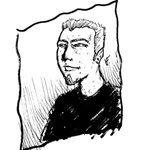 Hayden Fryer
HAYDEN FRYER is a Blue Mountains based (Sydney, Australia) cartoonist, illustrator, writer and founder of the boutique comic publisher, SIBERIAN PRODUCTIONS. Hayden's most recognised works: "BILLY: DEMON SLAYER", "COBBER" and "DARKEST NIGHT" are a part of a set of uniquely stylised sequential and illustrative works, which have and continue to see print in dozens of publications both in Australia and abroad. Hayden Fryer joined Society6 on November 30, 2016
More
HAYDEN FRYER is a Blue Mountains based (Sydney, Australia) cartoonist, illustrator, writer and founder of the boutique comic publisher, SIBERIAN PRODUCTIONS.
Hayden's most recognised works: "BILLY: DEMON SLAYER", "COBBER" and "DARKEST NIGHT" are a part of a set of uniquely stylised sequential and illustrative works, which have and continue to see print in dozens of publications both in Australia and abroad.
Hayden Fryer joined Society6 on November 30, 2016.