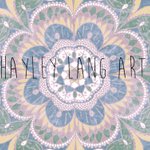 Hayley Lang
I'm a self-taught amateur artist and an Master of Divinity by trade (no that has nothing to do with being a wizard or witch). I like to work with watercolour, ink, pencil, and Procreate. I find inspiration in lots of different things from quotes to nature, from the beautiful to the silly, from the cute to the tranquil. If you buy any of my pieces, I would love to see how you use them. You can tag me on Instagram @hayleylangart and post to Facebook at https://www.facebook.com/hayleylangart . Hayley Lang joined Society6 on July 21, 2014
More
I'm a self-taught amateur artist and an Master of Divinity by trade (no that has nothing to do with being a wizard or witch). I like to work with watercolour, ink, pencil, and Procreate. I find inspiration in lots of different things from quotes to nature, from the beautiful to the silly, from the cute to the tranquil.
If you buy any of my pieces, I would love to see how you use them. You can tag me on Instagram @hayleylangart and post to Facebook at https://www.facebook.com/hayleylangart .
Hayley Lang joined Society6 on July 21, 2014.