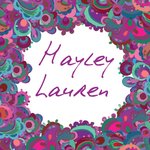 Hayley Lauren
Hayley Lauren is a textile designer and artist based in Melbourne, Australia. She graduated from Bachelor of Arts (Textile Design) at RMIT University in 2015 majoring in constructed textiles. Hayley's art and designs come in a variety of styles and mediums. From watercolour to organic line work, to stencil cuts and detailed wildlife drawings. Her free flowing designs are a creative expression and insight into the way she sees the world. "For me, it's about being free and having fun with art." To see more of her work follow her on instagram @HayleyLaurenDesign Hayley Lauren joined Society6 on March 6, 2015
More
Hayley Lauren is a textile designer and artist based in Melbourne, Australia. She graduated from Bachelor of Arts (Textile Design) at RMIT University in 2015 majoring in constructed textiles.
Hayley's art and designs come in a variety of styles and mediums. From watercolour to organic line work, to stencil cuts and detailed wildlife drawings. Her free flowing designs are a creative expression and insight into the way she sees the world. "For me, it's about being free and having fun with art."
To see more of her work follow her on instagram @HayleyLaurenDesign
Hayley Lauren joined Society6 on March 6, 2015.