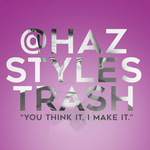 hazstylestrash
My name is Kris and I have been creating digital art now for about 14 years. My artwork has been written about on magazine websites such as Sugarscape, Seventeen, and Maximum Pop, even Capital FM! – and I honestly couldn't be more humbled and overwhelmed with the positive reaction I've received to my digital paintings and edits. My main source of inspiration is One Direction, mainly Harry Styles; and I hope to be able to provide the fandom with some fun items to tote around during this excruciating break! I want to share and spread my art to as many people as possible, and if anything I hope I can spread the message to inspire people to believe that no matter what you go through or how far you fall, there's always light at the end of the tunnel and you should never EVER give up on what makes you happy. Do what you love, and ignore those who want to hold you back hazstylestrash joined Society6 on January 11, 2016
More
My name is Kris and I have been creating digital art now for about 14 years.
My artwork has been written about on magazine websites such as Sugarscape, Seventeen, and Maximum Pop, even Capital FM! – and I honestly couldn't be more humbled and overwhelmed with the positive reaction I've received to my digital paintings and edits. My main source of inspiration is One Direction, mainly Harry Styles; and I hope to be able to provide the fandom with some fun items to tote around during this excruciating break!
I want to share and spread my art to as many people as possible, and if anything I hope I can spread the message to inspire people to believe that no matter what you go through or how far you fall, there's always light at the end of the tunnel and you should never EVER give up on what makes you happy. Do what you love, and ignore those who want to hold you back
hazstylestrash joined Society6 on January 11, 2016.
hazstylestrash's Store
226 results
Filter