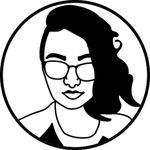 hbowdart
Hello there! I am a young artist from Austin, Texas. I use art as an outlet to show myself and others what I feel and care about. Most of my work is in black and white and traditional. Everything I post are things that I did myself and I worked really hard on, so if we could keep the hate to a non-existent level it would be much appreciated. Feel free to e-mail me with any questions or concerns at hbowdonart@gmail.com Check out my Instagram @hbowdart (And feel free to tag me in pictures of you with any prints you order!) Have a good day! :) hbowdart joined Society6 on June 25, 2016
More
Hello there! I am a young artist from Austin, Texas. I use art as an outlet to show myself and others what I feel and care about. Most of my work is in black and white and traditional. Everything I post are things that I did myself and I worked really hard on, so if we could keep the hate to a non-existent level it would be much appreciated.
Feel free to e-mail me with any questions or concerns at hbowdonart@gmail.com
Check out my Instagram @hbowdart (And feel free to tag me in pictures of you with any prints you order!)
Have a good day! :)
hbowdart joined Society6 on June 25, 2016.
Popular by hbowdart
19 results
Filter