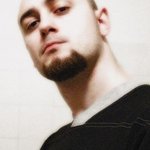 heARTcore
Hello, beautiful world! I am an graphic/product designer from Croatia, I am new in here, so it might take some time to get to know the way things work around here. Will give it my best, to keep it all interesting and cool :) In the meantime, feel free to browse through my works. Illustrations. Images. Photography. Life. Et cetera. heARTcore: https://www.facebook.com/sven.gjurcek "Eleanor was right. She never looked nice. She looked like art, and art wasn't supposed to look nice; it was supposed to make you feel something." ~ Rainbow Rowell heARTcore joined Society6 on January 1, 2015
More
Hello, beautiful world!
I am an graphic/product designer from Croatia, I am new in here, so it might take some time to get to know the way things work around here. Will give it my best, to keep it all interesting and cool :)
In the meantime, feel free to browse through my works. Illustrations. Images. Photography. Life. Et cetera.
heARTcore: https://www.facebook.com/sven.gjurcek
"Eleanor was right. She never looked nice. She looked like art, and art wasn't supposed to look nice; it was supposed to make you feel something." ~ Rainbow Rowell
heARTcore joined Society6 on January 1, 2015.