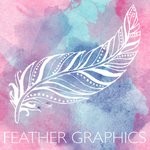 Heather Searles
Hey all! Here's a bit about me, if you're interested. Education: I'm an alumni of Rock Valley College with an Associates in Arts Degree and an alumni of the Milwaukee Institute of Art and Design majoring in Illustration and minoring in Communication Design. Inspiration: I tend to pull a lot of inspiration for my art out of nature (birds and flowers), music (all forms barring country, rap, and pop), and past art movements (arts and crafts and art nouveau). It might seem shallow, but I'm attracted to beautiful things, and that is what I like to explore in my art. The darkness and ugliness of the world tends to trend more in what I write. I'm not sure how it happened, but the split just sort of formed unconsciously. Hobbies: In addition to drawing and painting, I enjoy photography, reading, and writing. Lately, I've taken up teaching myself html coding, but that's slowed down quite a bit with schoolwork. I'll likely take it back up over the winter break. Career Goals and Ambitions: When I first came to MIAD, my intent was to improve my art enough to create a comic book based on the novel I am writing. However, I discovered that despite all efforts to learn character design, I just don't enjoy it all that much. I think at some point in the future I will return to this dream, but in the meantime, I'm happy creating patterns and designs for objects of everyday use, and hopefully I'll be able to find a job that allows me to explore this field further. My Art Process and Media I'm still sort of looking for my voice in both art and writing. Sketching is kind of the key to that for artists, and I've never been much of a sketcher or doodler. I tend to get an idea in my head, and I want to run with it with no regrets and without looking back. Unfortunately, you can't do that with clients because obviously they need some idea of what you're doing before you do it. For this reason, my process and media tend to change regularly, but lately I've been trending digital media and digital mixed with traditional media. Probably my favorite approach is to sketch something out and then place it in illustrator and use the pen tool to build up the final piece, but I also enjoy using my original line work—using photoshop to change the color of the lines and then digitally painting the insides. There's something special, I think, about letting your original lines and marks come through in your work, and I wish I would've have felt this way about my artwork sooner. Heather Searles joined Society6 on November 21, 2013
More
Hey all! Here's a bit about me, if you're interested.
Education:
I'm an alumni of Rock Valley College with an Associates in Arts Degree and an alumni of the Milwaukee Institute of Art and Design majoring in Illustration and minoring in Communication Design.
Inspiration:
I tend to pull a lot of inspiration for my art out of nature (birds and flowers), music (all forms barring country, rap, and pop), and past art movements (arts and crafts and art nouveau). It might seem shallow, but I'm attracted to beautiful things, and that is what I like to explore in my art. The darkness and ugliness of the world tends to trend more in what I write. I'm not sure how it happened, but the split just sort of formed unconsciously.
Hobbies:
In addition to drawing and painting, I enjoy photography, reading, and writing. Lately, I've taken up teaching myself html coding, but that's slowed down quite a bit with schoolwork. I'll likely take it back up over the winter break.
Career Goals and Ambitions:
When I first came to MIAD, my intent was to improve my art enough to create a comic book based on the novel I am writing. However, I discovered that despite all efforts to learn character design, I just don't enjoy it all that much. I think at some point in the future I will return to this dream, but in the meantime, I'm happy creating patterns and designs for objects of everyday use, and hopefully I'll be able to find a job that allows me to explore this field further.
My Art Process and Media
I'm still sort of looking for my voice in both art and writing. Sketching is kind of the key to that for artists, and I've never been much of a sketcher or doodler. I tend to get an idea in my head, and I want to run with it with no regrets and without looking back. Unfortunately, you can't do that with clients because obviously they need some idea of what you're doing before you do it. For this reason, my process and media tend to change regularly, but lately I've been trending digital media and digital mixed with traditional media. Probably my favorite approach is to sketch something out and then place it in illustrator and use the pen tool to build up the final piece, but I also enjoy using my original line work—using photoshop to change the color of the lines and then digitally painting the insides. There's something special, I think, about letting your original lines and marks come through in your work, and I wish I would've have felt this way about my artwork sooner.
Heather Searles joined Society6 on November 21, 2013.