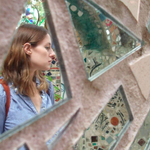 Heather Stanco
I'm a painter, a writer and an aspiring Muralist with the Mural Arts Program in the mural capital of the world: Philadelphia! Please let me know if you have any questions about my work! Bursting forth from ego, this exploration of chaotic surface mesmerizes and beckons you to succumb to the wild mutations of its form. Immerse yourself in my vortex. Release your earthly hold. Cavort and churn within this abstract record and let the eye-gasm begin. As an entirety, my work functions as an exploration of texture, surface and seduction. Using text, line and form I present a detailed, abstract record of the violent fracturing of continuously evolving structures. My central objective is to immerse the viewer in an overwhelming, constructed field of vision. These installations assume the form of a powerful presence or recording: some microscopic or cosmic event, a narrative history or even a mythical being, the interpretation is left almost entirely to the viewer's discretion. My paintings rely on the juxtaposition of color and the repetition of form to weave a surface bursting with movement and vibration. When I draw, however, I harvest my thoughts, memories, experiences and observations, and expulse them into a physical form, building a tangible manifesto of raw text and image. Through obsessive reflection and stream of consciousness writing, I showcase for the audience the intimate fractions of the artist's ego or psyche. Using black and white allows me to reduce distraction, manipulate graphic contrast and play with the abstracted reduction of the most basic of construction elements: the line. "The ego is first and foremost a bodily ego; it is not merely a surface entity, but is itself the projection of a surface." –Sigmund Freud "It became increasingly plain to me that the mandala is the center. It is the exponent of all paths. It is the path to the center, to individuation." -Carl Jung Heather Stanco joined Society6 on January 24, 2013
More
I'm a painter, a writer and an aspiring Muralist with the Mural Arts Program in the mural capital of the world: Philadelphia!
Please let me know if you have any questions about my work!
Bursting forth from ego, this exploration of chaotic surface mesmerizes and beckons you to succumb to the wild mutations of its form. Immerse yourself in my vortex. Release your earthly hold. Cavort and churn within this abstract record and let the eye-gasm begin.
As an entirety, my work functions as an exploration of texture, surface and seduction. Using text, line and form I present a detailed, abstract record of the violent fracturing of continuously evolving structures. My central objective is to immerse the viewer in an overwhelming, constructed field of vision. These installations assume the form of a powerful presence or recording: some microscopic or cosmic event, a narrative history or even a mythical being, the interpretation is left almost entirely to the viewer's discretion.
My paintings rely on the juxtaposition of color and the repetition of form to weave a surface bursting with movement and vibration. When I draw, however, I harvest my thoughts, memories, experiences and observations, and expulse them into a physical form, building a tangible manifesto of raw text and image. Through obsessive reflection and stream of consciousness writing, I showcase for the audience the intimate fractions of the artist's ego or psyche. Using black and white allows me to reduce distraction, manipulate graphic contrast and play with the abstracted reduction of the most basic of construction elements: the line.
"The ego is first and foremost a bodily ego; it is not merely a surface entity, but is itself the projection of a surface." –Sigmund Freud
"It became increasingly plain to me that the mandala is the center. It is the exponent of all paths. It is the path to the center, to individuation." -Carl Jung
Heather Stanco joined Society6 on January 24, 2013.
Heather Stanco's Store
36 results
Filter