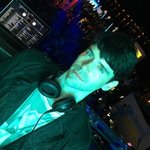 Heaven Malone
"Rock music has always had a contentious relationship with club land, but these days, those barriers are all but non-existent. In Chicago, Heaven Malone has been a great contributor to breaking down the divide."
Moving to Chicago from party city New Orleans, Heaven Malone quickly became immersed in Chicago's underground music scene. From an epic afterparty for Jared Leto from 30 Seconds to Mars, brimming with paparazzi, orchestrating complete decadence for Marilyn Manson's absinthe fueled Mardi Gras party, to an all night NYE afterparty with French electro pioneers Justice. Add on countless Lollapalooza celebrity afterparties going 'til daybreak …and you get the idea.
When not touring the world, Heaven Malone has held residencies and DJed at all of the hot indie clubs in Chicago. Malone also managed and DJed Girls & Boys Chicago, the first spinoff of the famous party at Webster Hall in New York City.
Notably, Malone DJed the official launch party for the multi-media fashion exhibition of acclaimed glam rocker, David Bowie.
Heaven Malone returned to Cannes, France to DJ multiple dates along the French Riviera then flew to Chicago to open for a special DJ set by LCD Soundsystem during Lollapalooza weekend. Heaven Malone founded Twin Peaks Night, a Lynchian drag and burlesque themed dance party. Most recently, Heaven DJed the opening weekend of the Stranger Things Popup – The Upside Down.
Read more
Heaven Malone's Store
Filter
af8ac27f-48b3-4c43-ae52-6c2416a2859e

Popular

8a63ec1d-fcdd-46a2-856e-f3ab0f24a097

All