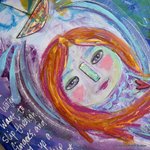 serena wilson stubson
I'm a mixed media artist living in Winnipeg Manitoba, with my husband, my sweet little bear, Sebastian, and my beautiful little flower, Poppy ♥
I've loved art all my life, but have never studied it professionally. I'm constantly inspired by the world around me, anything organic, life at twilight, fruits, flowers, weeds, summer rain, but most of all, my two dreamy children!
A common element in my work is rich textures created through my own style of painted collage. I'm not afraid of color and can't seem to get enough of it in my paintings. I also incorporate a wide variety of printed, handmade, vintage and imported papers into my pieces. Aside from painted collage, I also have a passion for photography and can always be found with a camera of some sort on hand.
I primarily work with Golden acrylic paints, grounds and fluids. All of my pieces are finished with an acrylic archival varnish to protect the piece for many years to come.
​
My artwork can be found in private collections throughout Canada, the United States, Europe and Australia.
♦ Where to fine me online? ♦
www.heavensearth.etsy.com www.facebook.com/heavensearth www.serenawilsonstubson.blogspot.com heavens_earth@hotmail.com
Read more
serena wilson stubson's Store
Filter