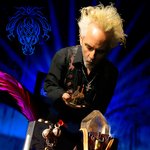 Heavy Magic
Will Cascio and his Heavy Magic Brand are not afraid to jump boundaries and push limits in the art world. From his graphic design works gracing the covers of 2 music CD releases, tour package design, and Tower Records advertising for Grateful Dead member Bill Kreutzmann's band Trichromes , to state of the artmusical equipment design on his HMSSM,com site, featuring his over the top "Heavy Magic Soulfilled Sound Machine" Custom Guitar Amplifier and Speaker Cabinet design. His Graphic Art has been published in several premiere magazines in including: • EFX ART & DESIGN • CHURN art magazine • Magical Blend • Lapis • RELIX music magazine Known to some as a true renaissance man for his multi- talents in the arts. Will's professional life has included: nine years as a rodeo cowboy four years as a Professional Jockey eight years as a Graphic / Web Designer 23 years on and off for as a Professional Actor/Stuntman with films like Back to the Future II & III, Stunt Doubling for Michael J. Fox, and Ninja Turtles III, playing Rapheal Stunt Turtle to his credit. ...as well as 18 years as a Master leather-smith, and jewelry designer see: http://www.heavymagicleather.com for examples of his creations. "Mystery Is All Powerful" Heavy Magic joined Society6 on July 3, 2012
More
Will Cascio and his Heavy Magic Brand are not afraid to jump boundaries and push limits in the art world.
From his graphic design works gracing the covers of 2 music CD releases, tour package design, and Tower Records advertising for Grateful Dead member Bill Kreutzmann's band Trichromes , to state of the artmusical equipment design on his HMSSM,com site, featuring his over the top "Heavy Magic Soulfilled Sound Machine" Custom Guitar Amplifier and Speaker Cabinet design.
His Graphic Art has been published in several premiere magazines in including: • EFX ART & DESIGN • CHURN art magazine • Magical Blend • Lapis • RELIX music magazine
Known to some as a true renaissance man for his multi- talents in the arts.
Will's professional life has included: nine years as a rodeo cowboy four years as a Professional Jockey eight years as a Graphic / Web Designer 23 years on and off for as a Professional Actor/Stuntman with films like Back to the Future II & III, Stunt Doubling for Michael J. Fox, and Ninja Turtles III, playing Rapheal Stunt Turtle to his credit.
...as well as 18 years as a Master leather-smith, and jewelry designer see: http://www.heavymagicleather.com for examples of his creations.
"Mystery Is All Powerful"
Heavy Magic joined Society6 on July 3, 2012.