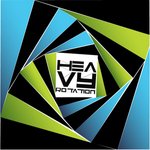 Heavy Rotation
Music is universal. It connects and bonds us across cultures and generations. It speaks to us, it inspires us, it motivates, heals and delivers us. But most of all, it moves us. Once we find that connection, we can't let it go. We'll search over and over for the feeling it gives us, playing the same song again and again. We call that feeling Heavy Rotation. Heavy Rotation is a platform for all artists from different walks of life to creatively and freely express themselves. We are the Mecca where all genres of music can be enjoyed, appreciated, shared, loved, expressed and discussed. Once a month, music lovers will unite to share their appreciation for diverse tastes and perspectives – from the undiscovered artist to the local legends of hip-hop and beyond. Together, we will entertain the souls of all music enthusiasts and share the feeling of the Heavy Rotation. Heavy Rotation joined Society6 on November 6, 2012
More
Music is universal. It connects and bonds us across cultures and generations. It speaks to us, it inspires us, it motivates, heals and delivers us. But most of all, it moves us. Once we find that connection, we can't let it go. We'll search over and over for the feeling it gives us, playing the same song again and again.
We call that feeling Heavy Rotation.
Heavy Rotation is a platform for all artists from different walks of life to creatively and freely express themselves. We are the Mecca where all genres of music can be enjoyed, appreciated, shared, loved, expressed and discussed.
Once a month, music lovers will unite to share their appreciation for diverse tastes and perspectives – from the undiscovered artist to the local legends of hip-hop and beyond. Together, we will entertain the souls of all music enthusiasts and share the feeling of the Heavy Rotation.
Heavy Rotation joined Society6 on November 6, 2012.
Popular by Heavy Rotation
86 results
Filter