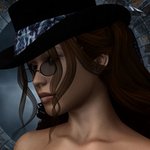 Saidge
First, please allow me to thank you for taking the time to thumb through my art; it is greatly appreciated. My work, as you shall see, has a tendency to be a little all over the map, as I create however the mood strikes, be it creepy or cute or anything in between.
I fell into graphic art rather my accident, as this particular style of art (compositions) had never been my forte. So, in all honesty, posting my work for all to see, was, in the beginning, exceptionally nerve-wracking. Having said that, please feel free to leave feedback, as all comments are welcomed.
Whether you landed here by accident or design, I thank you again for perusing these pages, and I hope that you will find something within that will raise a smile, inspire a thought, or open a mind.
Blessings All.
Read more