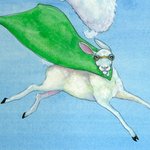 Heidi Rissmiller
Hello! My name is Heidi Rissmiller and welcome to my Art Treasures Shop. To tell you a little about myself, I am a single mother of a wonderful son. I am recent graduate of the Hussian School of Art located in Philadelphia, Pennsylvania. My passion is that of creating art which reflects thoughts and emotions. I am skilled in a variety of media...traditional and digital. My wish is that you enjoy your visit. Please feel free to contact me if you are interested in something specific that you do not see listed. Very kind regards, Heidi Rissmiller Heidi Rissmiller joined Society6 on March 16, 2011
More
Hello! My name is Heidi Rissmiller and welcome to my Art Treasures Shop. To tell you a little about myself, I am a single mother of a wonderful son. I am recent graduate of the Hussian School of Art located in Philadelphia, Pennsylvania.
My passion is that of creating art which reflects thoughts and emotions. I am skilled in a variety of media...traditional and digital. My wish is that you enjoy your visit. Please feel free to contact me if you are interested in something specific that you do not see listed. Very kind regards, Heidi Rissmiller
Heidi Rissmiller joined Society6 on March 16, 2011.