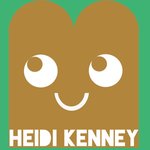 heidi kenney
Hello I am Heidi Kenney, a self-taught artist who creates plush and 3D soft sculptures, happy (& sometimes very sad) plush veggies, donuts, toilet paper rolls, and other everyday food & household items. I was born in Washington DC, and I currently live in Pennsylvania. I started my company and website, mypapercrane.com, in 2001 so I would have a place to blog and showcase the plush toys I was making. I have worked closely with Kidrobot to create keychains, pillows, and clothing based on my food designs. Yummy Donuts, Yummy Breakfast, and Yummy Dessert. My work has been featured in the New York Times, The Boston Globe, and Print magazine. I have participated in group exhibitions across the globe including Tokyo, Australia, and The United Kingdom. I recently had my third solo show in Chicago IL. I've gathered some of my press from the last 9 years below if you'd like to take a look. heidi kenney joined Society6 on April 23, 2011
More
Hello I am Heidi Kenney, a self-taught artist who creates plush and 3D soft sculptures, happy (& sometimes very sad) plush veggies, donuts, toilet paper rolls, and other everyday food & household items. I was born in Washington DC, and I currently live in Pennsylvania. I started my company and website, mypapercrane.com, in 2001 so I would have a place to blog and showcase the plush toys I was making. I have worked closely with Kidrobot to create keychains, pillows, and clothing based on my food designs. Yummy Donuts, Yummy Breakfast, and Yummy Dessert.
My work has been featured in the New York Times, The Boston Globe, and Print magazine. I have participated in group exhibitions across the globe including Tokyo, Australia, and The United Kingdom. I recently had my third solo show in Chicago IL. I've gathered some of my press from the last 9 years below if you'd like to take a look.
heidi kenney joined Society6 on April 23, 2011.