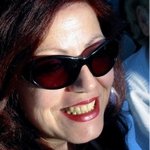 Helena Kay
Hello and thank you for stopping by !
I am Helena Kay, a Graphic Designer by training and a Children's Book author by inclination. Together with my Greek life-partner Anastasio, a Digital Graphic Illustrator, Painter & Photographer, we are the husband & wife team behind 'prePOSTERous' Art Studio.
We produce all our designs out of our small farmhouse in the beautiful hilly countryside, just outside Athens, where we live raising our two young daughters Alicia & Joanna, growing herbs & vegetables in our garden, tending a few hens and... coping with our overactive ginger tomcat 'Boufo'.
For the past eleven years we've been kept quite busy freelancing locally, but the recent unexpected economic crisis and the severe recession that has befallen upon our heads here in Greece, motivated us to join the Society6 community in an effort to reach a much wider international audience for our work.
We've striven to produce, specifically for Society6, a variation of posters in themes and sizes that would enliven most environments from the Nursery to the Executive office and would hopefully appeal to a wide variety of tastes. And, if all goes well, we'll continue to do so.
Finally, you may notice that some of our designs have a distinct 'Greek' flair about them. As my husband and I share a love of History, taking into consideration Greece's catalytic influence in western Philosophy, Art & Science, we believe them to be unique and universal in appeal...
Thanks again for reading so far. See you again soon,
Helena & Anastasio
Read more
Helena Kay's Store
93 results
Filter