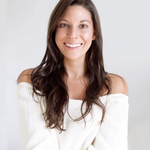 Kristen Laczi
Hello! I'm Kristen Laczi. I'm a graphic designer, watercolor & acrylic artist living in Long Island, originally from a small country town outside of Buffalo, NY. Most days you can find me rocking yoga pants, listening to beach vibe music while painting bright tropical florals or seascapes. I love being outdoors with my husband and puppy, we're always looking for the next adventure!
All of my paintings are inspired by real life travels & experiences. My style is impressionistic in which I focus less on the details, moving the brush quickly with emotion. My passion is to create art that is relaxing, cheerful and joyful.
I'd love to see how you style your #kristenlacziart on instagram, tag me @kristenlaczi.
Commissions & Original Paintings: www.kristenlaczi.com
Read more
Kristen Laczi's Store
Filter