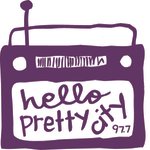 Hello Pretty City
I love my city! And pretty much any city I visit, no matter how small or sad. Let me know what city, state, street, neighborhood combination you need and I'll quickly make it happen! Email me at helloprettycity@gmail.com ******* If you love tender indie music, listen to Hello Pretty City the radio show! Sundays 8-10am and 8-10pm, streaming live online at www.exit977.org. Hello Pretty City joined Society6 on June 11, 2014
More
I love my city! And pretty much any city I visit, no matter how small or sad.
Let me know what city, state, street, neighborhood combination you need and I'll quickly make it happen! Email me at helloprettycity@gmail.com
---
If you love tender indie music, listen to Hello Pretty City the radio show! Sundays 8-10am and 8-10pm, streaming live online at www.exit977.org.
Hello Pretty City joined Society6 on June 11, 2014.