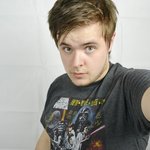 Henry Medhurst
Hi there! My name is Henry and I like creating things! As of September 2014 I will be attending Bournemouth University to study Computer Visualisation and Animation. I love creating in every form. I write stories, poems, music and computer codes. I create films, vlogs, animations, and illustrations too! I hope you enjoy what you see on my page! I try to do something creative everyday and if I think it's of a decent quality, I'll put it up here! Once again, thank you for looking at my work! Love and hugs Henry Henry Medhurst joined Society6 on June 6, 2014
More
Hi there! My name is Henry and I like creating things! As of September 2014 I will be attending Bournemouth University to study Computer Visualisation and Animation. I love creating in every form.
I write stories, poems, music and computer codes. I create films, vlogs, animations, and illustrations too! I hope you enjoy what you see on my page! I try to do something creative everyday and if I think it's of a decent quality, I'll put it up here!
Once again, thank you for looking at my work!
Love and hugs
Henry
Henry Medhurst joined Society6 on June 6, 2014.
Henry Medhurst's Store
95 results
Filter