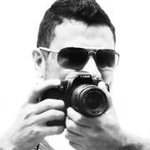 David Hernández-Palmar
David Alberto Hernández Palmar (Wayuu) is a photographer, videomaker, program organizer and journalist. He has produced documentaries for broadcast in Europe for Deutsche Welle and Canal Arte and has worked collaboratively on documentaries on the Wayuu such as Dalia se va de Jepira (2006). He has participated twice in NMAI Native American Film + Video Festivals, as a co-director of the documentary Owners of the Water and as a discussant in the roundtable, "Mother Earth in Crisis."
Hernández Palmar has independently curated indigenous film programs in Venezuela and abroad. In 2009 these included the Indigenous Film Showcase of Venezuela presented by the National Cinetheque Foundation and the first Indigenous Film Showcase in La Guajira, and in 2010 a selection of indigenous films for the Manuel Trujillo Duran Shorts Film Festival. In 2009 he also programmed an indigenous film showcase in Geneva for the International Labor Organization's meeting of experts on indigenous peoples' rights, and organized the opening night in Barcelona for the circulating Indigenous Film Showcase: El Universo Audiovisual de los Pueblos Indígenas.
As a photographer, Hernández Palmar has participated in diverse exhibitions, receiving in 2007 the Premio Sebastián Garrido Award for Photography at the III Bienal Nacional de Artes Plásticas of Puerto La Cruz, Venezuela for his series "Iconocomunicantes," and in 2010 he was distinguished with an Honorable Mention for his photo essay "Wayuu Life: a View From Within" by National Geographic's All Roads Photography Awards. He was a panelist in a session of the 2010 Res Artis conference "The Americas: Independent Artistic Practices in the Era of Globalization." In 2005 he co-founded the South American Art Company which won an IDEAS award for its innovative translation of indigenous art forms into Western fashion.
He studied journalism at the Universidad Rafael Belloso Chacín and photography at Escuela Julio Vengoechea in Maracaibo, Venezuela. He has been a guest researcher at the Anthropology Department of the University of Iowa, and is a member of the advisory boards of PeruVine/PeruDigital, the Ethnographic Digital Laboratory of the University of Central Florida and the International Ethnobotanical Association. Hernández-Palmar lives in Maracaibo, where he works as an independent reporter for several publications, including the Wayuu journal Wayuunaiki.
http://www.nativenetworks.si.edu/eng/rose/hernandez_d.html
Read more
David Hernández Palmar's Store
Filter