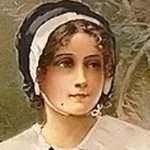 Hester Prynne
About Hester Prynne
life-long artist. always making art. because i must. because i love it.
because life without art would be death. beautiful art. scary art.
evocative. decorative. art that calms.
that speaks. shouts out loud. softly whispers words especially for you.
throws a party. makes you a star. hilarious. absurd. downright crazy.
sober & sane. painfully aware. just plain painful. (the good kind.)
if it's ugly, dull, leaves you cold. if you absolutely hate it. if it does nothing for you at all...
don't buy it. move on. you'll find something for you elsewhere.
trying to please everyone, will please no one.
but before you leave, look hard. stare. listen from deep inside.
if later, after you've gone, you find you're haunted in some way. or amused.
filled with an indescribable longing. intrigued. curious. thinking. come back.
i'll be making art. because that's what i do.
art so funny, you'll laugh until it hurts.
always making art.
because i must.
all media. i use what's available. very solution oriented.
fine artist with marketing savvy.
customized work available upon request.
Hester Prynne joined Society6 on April 23, 2012.