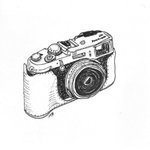 Stupid Little Squares
The drawings of Mike Oncley, now available as prints! These are originally drawn on thick 6x6" watercolor paper with a Micron 08 and gray Tombow ABT pens. Originals can be purchased through my website at www.heyoncley.com, or through subscribing at www.ZIIBRA.com/mike-oncley Stupid Little Squares joined Society6 on November 5, 2014
More
The drawings of Mike Oncley, now available as prints!
These are originally drawn on thick 6x6" watercolor paper with a Micron 08 and gray Tombow ABT pens.
Originals can be purchased through my website at www.heyoncley.com, or through subscribing at www.ZIIBRA.com/mike-oncley
Stupid Little Squares joined Society6 on November 5, 2014.