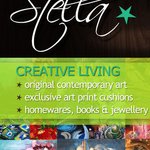 Hey Stella
www.hey-stella.com Hey Stella CREATIVE LIVING is fronted by Samantha Clark, a young emerging artist on the Mid North Coast paving an auspicious art career both locally and nationally. After completing a Diploma in Arts (Interior Design and Decoration) at CATC on the Gold Coast, Samantha returned to her beloved hometown and source of unending inspiration. Growing up in Port Macquarie, rich with her family's history, Samantha sees the world as a smorgasbord of stories and documents these through journalistic drawings, paintings and collage. Her art is a brave release of self - storytelling through colour, form and written words. She finds the very beginnings of putting marks onto canvas a new and refreshing adventure and revels in a chance to break design rules. She upholds, "the resolution of a piece becomes more challenging, more engaging, and much more memorable when the rules are visually questioned." Absorbing inspiration like a sponge, Samantha has developed a fearless and effervescent signature style, "Colours are my energy. I love how it brings life to art, adding depth and nourishing the subject and the viewer. It is the most powerful stroke of emotion an artist makes." Hey Stella joined Society6 on August 27, 2013
More
www.hey-stella.com
Hey Stella CREATIVE LIVING is fronted by Samantha Clark, a young emerging artist on the Mid North Coast paving an auspicious art career both locally and nationally.
After completing a Diploma in Arts (Interior Design and Decoration) at CATC on the Gold Coast, Samantha returned to her beloved hometown and source of unending inspiration. Growing up in Port Macquarie, rich with her family's history, Samantha sees the world as a smorgasbord of stories and documents these through journalistic drawings, paintings and collage.
Her art is a brave release of self - storytelling through colour, form and written words. She finds the very beginnings of putting marks onto canvas a new and refreshing adventure and revels in a chance to break design rules. She upholds, "the resolution of a piece becomes more challenging, more engaging, and much more memorable when the rules are visually questioned."
Absorbing inspiration like a sponge, Samantha has developed a fearless and effervescent signature style,
"Colours are my energy. I love how it brings life to art, adding depth and nourishing the subject and the viewer. It is the most powerful stroke of emotion an artist makes."
Hey Stella joined Society6 on August 27, 2013.
Hey Stella's Store
22 results
Filter