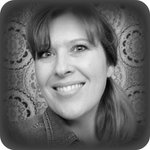 Heather Scherger
Hello. My name is Heather. I'm a coffee loving, always making, home educating mama, and I am the heart and hands behind Hidden Ridge Studio. My family and I reside on 19 acres in the beautiful Driftless Region of Southwest Wisconsin, where there is no shortage of creative inspiration. I am beyond grateful to share our little homestead with my amazingly supportive husband, Allan, our three children, Allie, Caleb, and Ashlyn, four cats, a dog, two Jersey cows, and a happy flock of chickens. We truly make our life here; loving, working, learning, and growing in God's grace - together. I have always loved creating. I have been known to become a little obsessed over whatever new artsy skill has captured my fancy (this is where the supportive husband comes in). Buying a myriad of new tools and supplies, and checking out every book in the library system is the only way to quench the fire of curiosity, right? I've dabbled in painting, paper crafting, done a little needlework, crocheted a mean scarf, taught myself lampworking (that was an expensive one), metal work, enameling, wood burning, stamp carving, and most recently, polymer clay. In all of these endeavors I have learned something that builds upon what I have previously learned, and that I believe, makes me a better artist. Society 6 gives me an wonderful opportunity to share my watercolor art with the world. What fascinating times we live in! I sell my polymer clay jewelry components and miniatures on Etsy. https://www.etsy.com/shop/HiddenRidgeStudio Live Thankful ♥ Heather Scherger joined Society6 on February 11, 2015
More
Hello. My name is Heather. I'm a coffee loving, always making, home educating mama, and I am the heart and hands behind Hidden Ridge Studio. My family and I reside on 19 acres in the beautiful Driftless Region of Southwest Wisconsin, where there is no shortage of creative inspiration. I am beyond grateful to share our little homestead with my amazingly supportive husband, Allan, our three children, Allie, Caleb, and Ashlyn, four cats, a dog, two Jersey cows, and a happy flock of chickens. We truly make our life here; loving, working, learning, and growing in God's grace - together.
I have always loved creating. I have been known to become a little obsessed over whatever new artsy skill has captured my fancy (this is where the supportive husband comes in). Buying a myriad of new tools and supplies, and checking out every book in the library system is the only way to quench the fire of curiosity, right? I've dabbled in painting, paper crafting, done a little needlework, crocheted a mean scarf, taught myself lampworking (that was an expensive one), metal work, enameling, wood burning, stamp carving, and most recently, polymer clay. In all of these endeavors I have learned something that builds upon what I have previously learned, and that I believe, makes me a better artist.
Society 6 gives me an wonderful opportunity to share my watercolor art with the world. What fascinating times we live in!
I sell my polymer clay jewelry components and miniatures on Etsy.
https://www.etsy.com/shop/HiddenRidgeStudio
Live Thankful ♥
Heather Scherger joined Society6 on February 11, 2015.
Heather Scherger's Store
5 results
Filter