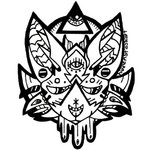 HiddenStash Art
Hey, I'm Ashley. Welcome to my art shop. I rest and roam in the wilds of Portlandia, constantly make art to appease my aesthetic-hungry soul, use music, nature and video games as coping mechanisms, & hold rotating interest in more hobbies than I'll probably be able to fully explore in my lifetime. HiddenStash Art joined Society6 on February 1, 2013
More
Hey, I'm Ashley. Welcome to my art shop.
I rest and roam in the wilds of Portlandia, constantly make art to appease my aesthetic-hungry soul, use music, nature and video games as coping mechanisms, & hold rotating interest in more hobbies than I'll probably be able to fully explore in my lifetime.
HiddenStash Art joined Society6 on February 1, 2013.