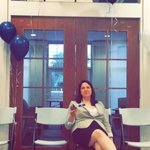 Ellen Wehrman
Student Affairs gal marries a Professor dude, they have a special needs kiddo. Support your higher ed pals by decorating your office/cubicle/hole in the wall with swag here. Want to rep a specific alma mater? I can match any school's colors (sorry, no logos). Just tweet me @godzellen with specifics. Ellen Wehrman joined Society6 on April 17, 2015
More
Student Affairs gal marries a Professor dude, they have a special needs kiddo. Support your higher ed pals by decorating your office/cubicle/hole in the wall with swag here.
Want to rep a specific alma mater? I can match any school's colors (sorry, no logos). Just tweet me @godzellen with specifics.
Ellen Wehrman joined Society6 on April 17, 2015.