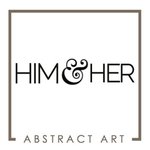 Him & Her Abstract Art
Him & Her Abstract art is the work of interior decorator, Camila Pavone and her husband, Jonathan Pavone. Together they collaborate on color stories for each piece and each one of them adds different layers to each and every painting. You can learn more about them and Camila's design work on her style blog, Effortless Style. www.effortless-style.com http://blog.effortless-style.com Him & Her Abstract Art joined Society6 on January 15, 2013
More
Him & Her Abstract art is the work of interior decorator, Camila Pavone and her husband, Jonathan Pavone.
Together they collaborate on color stories for each piece and each one of them adds different layers to each and every painting.
You can learn more about them and Camila's design work on her style blog, Effortless Style.
www.effortless-style.com http://blog.effortless-style.com
Him & Her Abstract Art joined Society6 on January 15, 2013.
Prints by Him & Her Abstract Art
25 results
Filter