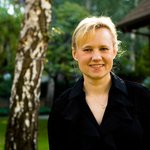 hjmartgallery
hjmArtGallery Archival Giclee Prints and Original Acrylic Paintings By California artist Helen Janow Miqueo. A Smile On Your Wall... I create affordable art for your home! Full of life vivid colors of my whimsical original paintings and giclee art prints will bring a smile to your walls and soul! My subject matters are full of promise, happiness and inspiration. Master of perfectionism, I pay a great deal of attention to every aspect of my creative and business processes. My art is a combination of my imagination, my love of nature and my personality. The main theme that runs across many of my artworks is a "Tree of Life" concept, the idea that all life on earth is interconnected. In essence, "Tree of Life" symbolizes life itself, with its branches reaching for the Heavens and its roots firmly grounded in "Mother Earth". My original paintings are one of a kind, hand-painted pieces of art. All OOAK art is lovingly created on a back stapled gallery wrapped canvas using my unique acrylic painting technique. Always wired and ready to hang right out the package! Sides are always painted - no frame required! Certificate of Authenticity is also included with every original painting, signed and dated by me, the artist. My art prints are high quality giclee reproductions from my sold original paintings. I print my art prints myself using my professional Epson printer and it's archival ultrachrome pigmented inks. This gives me a great deal of control over the quality of my prints. It also allows me to offer my art collectors a range of custom print sizes. My prints are guaranteed not to fade for at least 100 years framed under glass! I use beautiful 100% cotton rag, museum quality, acid-free, archival, bright white Velvet Fine Art Paper. Born in Russia, I successfully completed Moscow's School of Art and hold an AA Degree in Graphic Design. I have exhibited at numerous California galleries and many on-line galleries. My work can also be found in many private and corporate collections around the country and abroad. A published artist, I was featured in Content Magazine, about.com and many other print and on-line publications. My art is highly collectible due to its unique painting technique and recognizable style. With every artwork I create, I want to bring the scent of nature and happy colors into your home! [HJM Art Gallery]: http://hjmartgallery.etsy.com [HJM Art Gallery]: http://hjmartgallery.com [twitter]: http://twitter.com/hjmart [blog]: http://hjmart.blogspot.com [facebook] http://www.facebook.com/hjmart Please take a moment to signup for my art newsletter for exclusive promotions: eepurl.com/dhfk hjmartgallery joined Society6 on April 7, 2013
More
hjmArtGallery Archival Giclee Prints and Original Acrylic Paintings By California artist Helen Janow Miqueo.
A Smile On Your Wall...
I create affordable art for your home! Full of life vivid colors of my whimsical original paintings and giclee art prints will bring a smile to your walls and soul!
My subject matters are full of promise, happiness and inspiration. Master of perfectionism, I pay a great deal of attention to every aspect of my creative and business processes. My art is a combination of my imagination, my love of nature and my personality.
The main theme that runs across many of my artworks is a "Tree of Life" concept, the idea that all life on earth is interconnected. In essence, "Tree of Life" symbolizes life itself, with its branches reaching for the Heavens and its roots firmly grounded in "Mother Earth".
My original paintings are one of a kind, hand-painted pieces of art. All OOAK art is lovingly created on a back stapled gallery wrapped canvas using my unique acrylic painting technique. Always wired and ready to hang right out the package! Sides are always painted - no frame required! Certificate of Authenticity is also included with every original painting, signed and dated by me, the artist.
My art prints are high quality giclee reproductions from my sold original paintings. I print my art prints myself using my professional Epson printer and it's archival ultrachrome pigmented inks. This gives me a great deal of control over the quality of my prints. It also allows me to offer my art collectors a range of custom print sizes. My prints are guaranteed not to fade for at least 100 years framed under glass! I use beautiful 100% cotton rag, museum quality, acid-free, archival, bright white Velvet Fine Art Paper.
Born in Russia, I successfully completed Moscow's School of Art and hold an AA Degree in Graphic Design. I have exhibited at numerous California galleries and many on-line galleries. My work can also be found in many private and corporate collections around the country and abroad. A published artist, I was featured in Content Magazine, about.com and many other print and on-line publications. My art is highly collectible due to its unique painting technique and recognizable style.
With every artwork I create, I want to bring the scent of nature and happy colors into your home!
[facebook] http://www.facebook.com/hjmart
Please take a moment to signup for my art newsletter for exclusive promotions: eepurl.com/dhfk
hjmartgallery joined Society6 on April 7, 2013.
hjmartgallery's Store
7 result
Filter