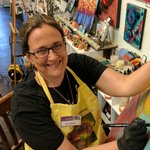 Heather Burnell
I'm so happy to share my Creative Journey story with you! I'm old enough to have a son in college and another in High School, but I continue to journey along the path to discover (when I'm grown up) what I want to do with my time and how to make money.
I was easily influenced by the "grown ups" in my life who wanted to advise me how to be financially secure. I took their advice and have a career in Technology. I've worked mostly with people who had very different aptitudes. When my teams would take various personality tests, my profile was always off on some other grid from the rest of my techie teammates. This inevitably lead to me joking with my managers about how much they needed me. But in all seriousness, Corporate America definitely needs Creatives!
I breath and bleed creativity. I started performing on stage at age 5. Throughout my childhood, I wrote plays, for my friends and I to perform. I choreographed dance routines for my cousin, friends and me. I sewed, crafted, DIY'd (without knowing I was "DIYing"). As I got older, I joined the Drama Club, minored in Theater and performed in Summer Stock musicals. As an adult, I've written books, scrap-booked, became a digital arts aficionado, and I love photography.
My motto is, "A day without creativity isn't over yet."
I always knew I was Creative, with a capital "C." But I never thought of myself as an artist. However, when I went on meditative retreats, I found myself quietly drawing.  This evolved into teaching myself how to draw with water color pencils.  I found that drawing was a way to shut off my brain, be more fully in the moment.
The water color journey lead to a desire to learn Mixed Media. I had purchased a Mixed Media painting from Kelly Rae Roberts, and one day, while wondering how to learn the craft, I Googled her. She offered online classes! My Mixed Media learning began that day.
I have painted almost every day since then. It has become like breathing for me.
Welcome to my Creative Journey.  I'm delighted you are here.
Read more