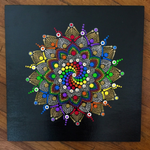 HM Creative Endeavors
Welcome to the home of the Mighty Mandala!
Hi! I am Heather and I am a 26 year resident of Colorado. I have been married to my husband, Brian, for 24 years. We raised our two amazing children in the 'burbs of Broomfield. It was only after moving to our Retirement Home in Cañon City that I discovered I had an inner artist.
I am a Mandala Artist. I paint with acrylic paints, including metallic, pearl and glitter paints. I usually paint on canvas boards but I also paint on stone, wood, ceramics, fabrics and more!
I love the idea of Wabi-Sabi, of finding beauty in imperfection, of revering authenticity above all. I paint entirely free-hand with no forethought of pattern or design. My paintings tend to be surprising even as I paint them. I like to think of them as a download of sacred geometry from the universe!
My paintings are created with a clear intention to delight the eye and lift the spirit, they represent my devotion to God and to humanity.
I am a very new artist and I have only begun to spread my wings!
HM ❤️
Art Shows December 2018 Won 1st Place in the "Professional Artist" division of the "Labels of Love" juried art show and beer label competition benefiting "Project Angel Heart" In Colorado Springs.
May 2018 Two pieces accepted into the Canon City "Blossom Festival" juried Art Show at the Fremont Center For The Arts. Pieces were "Cross #10" and "Sunset" (acrylic paint on wood and canvas)
May 2019 Chosen by jury to paint steel butterfly for "Flight 2019" benefiting the Colorado Springs Rotary Club and art programs for kids. Piece is 16" x 9" and titled "Dreams Take Flight" (acrylic paint on steel). Received 2nd highest bid in the Petite Butterfly category.
August 2019 6 hand painted wooden crosses accepted into the Religious Fine Art Show at The Abbey in Canon City CO.
Solo Exhibitions & Installations December 2018 Christmas Show installation at "The Hive" in Canon City.
March 2019 Installation at Art 111 Gallery & Art Supply in Colorado Springs.
April 2019 Mandala titled "égalité" chosen for permanent installation at the (brand new) Ronald McDonald House in Colorado Springs.
October 2019 Solo Exhibition of Mandala paintings at Miriam's Place in Colorado Springs.
Fun Stuff March 2019 Colored/Dotted piece "Dot Mandala Star" featured on the cover of Leisure & Entertainment Magazine
Vol. 6, Issue 111 Canon City/Florence/Penrose
Read more
HM Creative Endeavors's Store
Filter