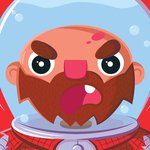 Hoborobo
My name is Scott Weston I am a freelance animator/illustrator/designer. If you or your company need anything animated, illustrated or designed feel free to contact me for a quote! In case you were wondering, the programs that I use are Flash, After Effects, Illustrator, Photoshop, Premiere and Soundbooth. There are more but it would be a bit tedious for you to read.
Please visit my website www.hoborobo.co.uk
Vote for my T-shirts here: http://www.qwertee.com/profiles/hoborobo/
Like me on facebook: http://www.facebook.com/pages/Hoborobo/10399898...
Follow me on twitter @hoborobo
Read more