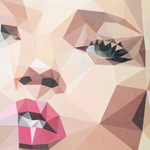 Wolfling
Welcome to Wolfling Design We are two guys passionate for graphic design & illustration. Our main influences in our work are Pop art, cultural event, old school glamour & playing with shapes. If you wish to customize product based on the collections we present here, drop us a line or contact us at: wolflingdesign@gmail.com Wolfling joined Society6 on December 1, 2013
More
Welcome to Wolfling Design
We are two guys passionate for graphic design & illustration.
Our main influences in our work are Pop art, cultural event, old school glamour & playing with shapes.
If you wish to customize product based on the collections we present here, drop us a line or contact us at:
wolflingdesign@gmail.com
Wolfling joined Society6 on December 1, 2013.