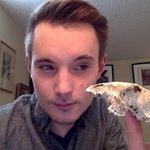 HoffmanAnatomy
I am a graduate student at the University of Guelph, Ontario. As both an artist and an anatomist, I hope my drawings in some small way grow your appreciation for the human body, and the beauty of its construction. Thank you and enjoy, - Simon ---- Questions, comments, or commissions may be directed to: hoffman.anatomy.illustration@gmail.com HoffmanAnatomy joined Society6 on May 5, 2016
More
I am a graduate student at the University of Guelph, Ontario. As both an artist and an anatomist, I hope my drawings in some small way grow your appreciation for the human body, and the beauty of its construction.
Thank you and enjoy,
---
Questions, comments, or commissions may be directed to: hoffman.anatomy.illustration@gmail.com
HoffmanAnatomy joined Society6 on May 5, 2016.