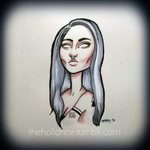 Hollance
Holly "Hollance" is a 22 years old, lives in the Victorian Otway Ranges, is a self taught artist and she grew up with computers. The first program she learnt to use was Microsoft Paint on a hand-me-down computer that still ran Windows '98. When she reached highschool, she found out about the Adobe programs Illustrator and Photoshop. Her first digital pictures were messily drawn with a mouse, and her photo's crudely edited in Photoshop. In 2009, she entered her first logo competition for her local community radio station OCR FM. Since winning, she has given the logo a fresh modern look, and is proud to have her work on display on their banners. Since 2010, Hollance has been creating event posters for local her FReeZA group which she volunteers with. Her pride and joy are the posters she creates for their Battle of the Band's gigs. Hollance has taken part in two group projects compiled by a friend. One; designing a postcard and the other, designing a sticker. These are her first print projects and she hopes to be included in many more. Hollance sells her art online and creates posters for clients, when she can. Need to contact me? Send me an email: thehollance@gmail.com To see more, go to my tumblr: thehollance.tumblr.com Check out my Etsy: https://www.etsy.com/au/shop/TheArtOfHollance?ref=hdr_shop_menu OR MY NEW WEBSITE: thehollance.wix.com/design Hollance joined Society6 on December 8, 2014
More
Holly "Hollance" is a 22 years old, lives in the Victorian Otway Ranges, is a self taught artist and she grew up with computers. The first program she learnt to use was Microsoft Paint on a hand-me-down computer that still ran Windows '98.
When she reached highschool, she found out about the Adobe programs Illustrator and Photoshop. Her first digital pictures were messily drawn with a mouse, and her photo's crudely edited in Photoshop.
In 2009, she entered her first logo competition for her local community radio station OCR FM. Since winning, she has given the logo a fresh modern look, and is proud to have her work on display on their banners.
Since 2010, Hollance has been creating event posters for local her FReeZA group which she volunteers with. Her pride and joy are the posters she creates for their Battle of the Band's gigs.
Hollance has taken part in two group projects compiled by a friend. One; designing a postcard and the other, designing a sticker. These are her first print projects and she hopes to be included in many more.
Hollance sells her art online and creates posters for clients, when she can.
Need to contact me? Send me an email: thehollance@gmail.com
To see more, go to my tumblr: thehollance.tumblr.com
Check out my Etsy: https://www.etsy.com/au/shop/TheArtOfHollance?ref=hdr_shop_menu
OR MY NEW WEBSITE: thehollance.wix.com/design
Hollance joined Society6 on December 8, 2014.