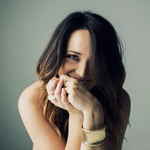 Holley Maher
My name is Holley Maher (pronounced like John, but spelled like Bill), and I'm the owner and lead designer behind my freelance boutique design studio, H. Maher Creative. I design wedding invitation suites, album artwork, book covers, merchandise, websites, and business branding. I'm also a professional singer/songwriter, children's book author and illustrator, and amateur photographer with a love for crafting, cooking, decorating, refurbishing furniture, collecting records, and taking the occasional ballet class. My design company: www.hmahercreative.com My blog: www.holleymaher.com/blog My music: www.holleymaher.com Holley Maher joined Society6 on September 9, 2013
More
My name is Holley Maher (pronounced like John, but spelled like Bill), and I'm the owner and lead designer behind my freelance boutique design studio, H. Maher Creative. I design wedding invitation suites, album artwork, book covers, merchandise, websites, and business branding. I'm also a professional singer/songwriter, children's book author and illustrator, and amateur photographer with a love for crafting, cooking, decorating, refurbishing furniture, collecting records, and taking the occasional ballet class.
My design company: www.hmahercreative.com My blog: www.holleymaher.com/blog My music: www.holleymaher.com
Holley Maher joined Society6 on September 9, 2013.