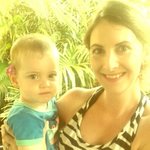 HollyAndrewDesigns
Hi I'm Holly Andrew and I am a seeker. I believe that art is a healer. I believe that when we listen to our inner voice and look for the messages and signs around us, that we land on our right path. And when we do, we become fully alive and find a peacefulness inside. I also believe that throughout our lives, we face brokenhearted-ness, happiness, moments of truth and moments to test our inner strength. And that these all happen for a reason. That all of these events matter. I am also a late-starter I spent my early career as a primary school teacher— nurturing young minds, and helping the social and emotional well being of very impressionable children . It was rewarding, important work, but my inner voice was urging me to take a different path. And then… I returned to art, at age 33, and everything changed. Painting and creating brought me what I was craving: a new way to navigate, meditate, share and be in the world. I began painting, gluing, experimenting, blending and making a beautiful mess like my heart depends on it. My portfolio began growing and I launched my Etsy shop. My story proves it: Change is possible. If you let it in. Most days, I feel a little bit dazed. I'm blessed to share my life with two little boys named Ari (aged 3 and a real cutie ) and Remi (aged 2 and cheeky as ever), and a husband named Sam, who cares and cheers me onwards in this dream to be a visual artist. Life is messy, precious, and so very good. Dreams do come true. Signs are everywhere. My gratitude is endless. And my heart is finally winning, following the path it has always wanted to. HollyAndrewDesigns joined Society6 on June 10, 2016
More
Hi I'm Holly Andrew and I am a seeker.
I believe that art is a healer. I believe that when we listen to our inner voice and look for the messages and signs around us, that we land on our right path. And when we do, we become fully alive and find a peacefulness inside.
I also believe that throughout our lives, we face brokenhearted-ness, happiness, moments of truth and moments to test our inner strength. And that these all happen for a reason. That all of these events matter.
I am also a late-starter I spent my early career as a primary school teacher— nurturing young minds, and helping the social and emotional well being of very impressionable children . It was rewarding, important work, but my inner voice was urging me to take a different path.
And then… I returned to art, at age 33, and everything changed. Painting and creating brought me what I was craving: a new way to navigate, meditate, share and be in the world.
I began painting, gluing, experimenting, blending and making a beautiful mess like my heart depends on it. My portfolio began growing and I launched my Etsy shop.
My story proves it: Change is possible. If you let it in.
Most days, I feel a little bit dazed. I'm blessed to share my life with two little boys named Ari (aged 3 and a real cutie ) and Remi (aged 2 and cheeky as ever), and a husband named Sam, who cares and cheers me onwards in this dream to be a visual artist.
Life is messy, precious, and so very good. Dreams do come true. Signs are everywhere. My gratitude is endless. And my heart is finally winning, following the path it has always wanted to.
HollyAndrewDesigns joined Society6 on June 10, 2016.