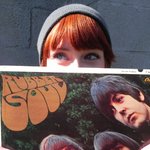 holly erinn karnes
illustration and fine artist based out of pittsburgh. i love to work in digital media along with tradition including- watercolor, pencil, pen & ink, acrylic and oils. when i work with traditional media it usually ends up being a mish-mash of everything. i've been really into digital thought,lately. so that's probably what you'll see alot of here. Blog: http://happinessbrand.blogspot.com/ Instagram: @hollyerinn Twitter: @happinessbrand7 holly erinn karnes joined Society6 on September 1, 2011
More
illustration and fine artist based out of pittsburgh. i love to work in digital media along with tradition including- watercolor, pencil, pen & ink, acrylic and oils. when i work with traditional media it usually ends up being a mish-mash of everything. i've been really into digital thought,lately. so that's probably what you'll see alot of here.
Blog: http://happinessbrand.blogspot.com/ Instagram: @hollyerinn Twitter: @happinessbrand7
holly erinn karnes joined Society6 on September 1, 2011.