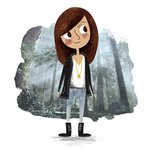 hollyhatamillustrations
have been an artist since I could first hold a pencil. With diplomas in fine arts and in graphic design, I worked as a professional graphic designer before I began my freelance illustration career and before I founded my paperie company; TearDrop in 2004. I'm devoted to inspire and make people laugh with my paper products, and feel an obligation to help people celebrate life's little and big events! I am inspired by people - my favourite past time is to observe, stare and oogle. I look at people through my artist's eye and appreciate and illustrate unique characters. I love combining illustration and photography to create a whimsical and unique piece of artwork. My other passions include spending time hugging trees, filling up my pantry with tea and sticking my nose in a book. My dream is to attend The Hogwarts School of Witchcraft and Wizardry...no joke! My other loves include paint fights, silly words and despite not having met one yet, dinosaurs...grrrr, arrgh! hollyhatamillustrations joined Society6 on January 19, 2013
More
have been an artist since I could first hold a pencil. With diplomas in fine arts and in graphic design, I worked as a professional graphic designer before I began my freelance illustration career and before I founded my paperie company; TearDrop in 2004. I'm devoted to inspire and make people laugh with my paper products, and feel an obligation to help people celebrate life's little and big events! I am inspired by people - my favourite past time is to observe, stare and oogle.
I look at people through my artist's eye and appreciate and illustrate unique characters. I love combining illustration and photography to create a whimsical and unique piece of artwork. My other passions include spending time hugging trees, filling up my pantry with tea and sticking my nose in a book. My dream is to attend The Hogwarts School of Witchcraft and Wizardry...no joke! My other loves include paint fights, silly words and despite not having met one yet, dinosaurs...grrrr, arrgh!
hollyhatamillustrations joined Society6 on January 19, 2013.