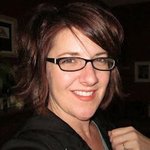 Holly Helgeson
Hi, My name is Holly Helgeson. I am a wife to a wonderful man who makes me laugh every day. I am also a mother to two very active and creative boys and one little princess. FABRIC AND PATTERN....I LOVE THEM DEARLY! I also have a passion for all things antique, vintage, deco and retro! I am an artist and love to create, repurpose, reuse, restore, recycle and reinvent anything I can. My husband Chris is my partner in crime when it comes to dumpster diving, sidewalk junk, garage sales, estate auctions, and thrift store treasures. He has an amazing built in radar for fabulous "FREEBIE" finds. My children think I'm kooky, and on any given day you may just find me dancing around the house like a nut rockin' out to some great tunes. Thanks for stopping by my shop! Feel free to check out my blog, Spoonflower shop and Etsy shop! www.hollyhelgeson.blogspot.com www.spoonflower.com/profiles/holly_helgeson www.etsy.com/shop/PaintedRuby Holly Helgeson joined Society6 on May 7, 2012
More
Hi, My name is Holly Helgeson. I am a wife to a wonderful man who makes me laugh every day. I am also a mother to two very active and creative boys and one little princess. FABRIC AND PATTERN....I LOVE THEM DEARLY! I also have a passion for all things antique, vintage, deco and retro! I am an artist and love to create, repurpose, reuse, restore, recycle and reinvent anything I can. My husband Chris is my partner in crime when it comes to dumpster diving, sidewalk junk, garage sales, estate auctions, and thrift store treasures. He has an amazing built in radar for fabulous "FREEBIE" finds. My children think I'm kooky, and on any given day you may just find me dancing around the house like a nut rockin' out to some great tunes.
Thanks for stopping by my shop! Feel free to check out my blog, Spoonflower shop and Etsy shop!
www.hollyhelgeson.blogspot.com www.spoonflower.com/profiles/holly_helgeson www.etsy.com/shop/PaintedRuby
Holly Helgeson joined Society6 on May 7, 2012.