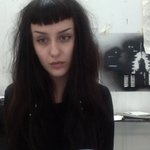 Holly Henderson
18 year old art student, from Maidstone, England. Surname was formerly Brunt. My work varies a lot. I'm still searching for the thing that defines me as an artist, and I probably always will be. I'm fascinated by using colour and form in a way that suggests the image is alive in some way. I work predominantly with oil paint and acrylic, using my fingers to apply it so the strokes of paint are raw and the unique details are flighty and unintentional. But I also have a love for fine details and figurative portraits. Holly Henderson joined Society6 on November 24, 2013
More
18 year old art student, from Maidstone, England. Surname was formerly Brunt.
My work varies a lot. I'm still searching for the thing that defines me as an artist, and I probably always will be. I'm fascinated by using colour and form in a way that suggests the image is alive in some way. I work predominantly with oil paint and acrylic, using my fingers to apply it so the strokes of paint are raw and the unique details are flighty and unintentional. But I also have a love for fine details and figurative portraits.
Holly Henderson joined Society6 on November 24, 2013.