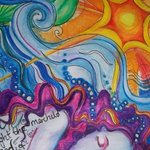 hollyjacksonart
Holly Jackson has been drawing ever since she can remember. Being creative is her passion. She is inspired by many things-ripples in the ocean, laughing with friends, cups of tea, sunshine and positive experiences. Holly recently completed a Masters in Art and wishes to continue pursuing her passion of being creative. You can see more of her work here: www.facebook.com/hollyjacksonart hollyjacksonart joined Society6 on March 6, 2014
More
Holly Jackson has been drawing ever since she can remember. Being creative is her passion. She is inspired by many things-ripples in the ocean, laughing with friends, cups of tea, sunshine and positive experiences.
Holly recently completed a Masters in Art and wishes to continue pursuing her passion of being creative.
You can see more of her work here: www.facebook.com/hollyjacksonart
hollyjacksonart joined Society6 on March 6, 2014.
hollyjacksonart's Store
30 results
Filter