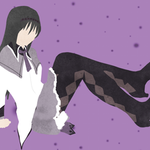 HomuraSP
I'm Homura ShumpPerson. I'm a teenager who wants to make some money. Any and all photographs I use are either free for commercial use or taken by myself. I do not use Google, and my galaxy products are, for the most part, painted by me. The other part comes from photographs I am, once again, allowed to use. HomuraSP joined Society6 on April 14, 2014
More
I'm Homura ShumpPerson. I'm a teenager who wants to make some money.
Any and all photographs I use are either free for commercial use or taken by myself. I do not use Google, and my galaxy products are, for the most part, painted by me. The other part comes from photographs I am, once again, allowed to use.
HomuraSP joined Society6 on April 14, 2014.