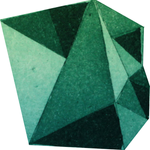 Minna Louhelainen | honeyacid
Finnish visual artist / printmaker with a special interest in pixel art and natural sciences. http://www.minnalouhelainen.net - my professional portfolio http://honeyacid.etsy.com - buy originals at Etsy https://taiko.fi/minnalouhelainen - buy originals at Taiko (Finland only) PS. The platypus is the greatest animal in the galaxy (and the neighbouring galaxies), rivalled only by the common cow. Minna Louhelainen | honeyacid joined Society6 on April 29, 2012
More
Finnish visual artist / printmaker with a special interest in pixel art and natural sciences.
http://www.minnalouhelainen.net - my professional portfolio http://honeyacid.etsy.com - buy originals at Etsy https://taiko.fi/minnalouhelainen - buy originals at Taiko (Finland only)
PS. The platypus is the greatest animal in the galaxy (and the neighbouring galaxies), rivalled only by the common cow.
Minna Louhelainen | honeyacid joined Society6 on April 29, 2012.
Prints by Minna Louhelainen | honeyacid
42 results
Filter