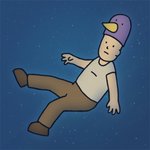 honeybadgermountain
Daniel Saunders is an illustrator living and working in Norfolk. He is the creative director of Lard Ventures Ltd which is currently developing a character based project called, "Lard wants world peace." His work has been featured in OFFLIFE, Animation Magazine and a number of film festivals. https://honeybadgermountain.com/ honeybadgermountain joined Society6 on May 16, 2016
More
Daniel Saunders is an illustrator living and working in Norfolk. He is the creative director of Lard Ventures Ltd which is currently developing a character based project called, "Lard wants world peace." His work has been featured in OFFLIFE, Animation Magazine and a number of film festivals.
https://honeybadgermountain.com/
honeybadgermountain joined Society6 on May 16, 2016.
honeybadgermountain's Store
32 results
Filter